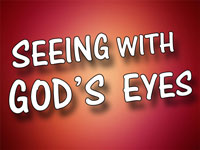 When a man and woman are united in marriage, there is a phase in their new life together known as the honeymoon. It doesnít last forever and is soon replaced with the cares of this world. This young couple then has to cling to each other as they experience attacks and defeats or risk being split apart. It is the same with the Christian life. It is a glorious time after your salvation and the baptism of the Holy Spirit. But then you begin to experience attacks and defeats and you may begin to wonder why God is allowing this to happen in your life. Has God turned His back on you? No, it is part of growing and maturing in the Kingdom of God. King David recorded many of his experiences as he cried out to the Lord for relief.
Jesus lived a sinless life but the moral filth of humanity was almost more than He could bear. It was an unconditional love that helped Jesus endure mankindís depravity and minister to our needs. When God opened King Davidís spiritual eyes, David was grieved to see people not living the way they should be. Examine yourself to verify the veracity of what I just said. Your life prior to Christ was comfortable because you were only concerned about yourself and did not see the ugliness of sin. Then you began to hunger and thirst for righteousness and it seemed that the world had changed Ė but you were in reality beginning to see the world as God sees it. God began to work on you and suddenly it felt like you were losing control of your life.
Youíve had mountaintop experiences but now youíre in the valley of despair. God wants you to grow and will use circumstances in your life to make you into the person He wants you to be. King David could not see his own problems until God opened his spiritual eyes and then he saw that he wasnít much different than those who had been oppressing him. It is important not to compare yourself to other people but to keep your eyes upon Jesus and the prize that awaits us. Life is a long race; you donít want to sprint out quickly and not cross the finish line. It is Godís desire that you should finish the race in a manner that is pleasing to Him.
Print out the sermon outline and let's examine the Scriptures this Sunday morning at 9:00 AM PST.

May God richly bless you today,

Pastor Charles Thorell
---