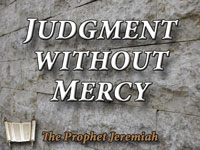 Jeremiah's ministry lasted for some 40 years. When he started to prophecy against the people of Judah, they were living in a state of prosperity and life in general was good. The prophets and priests told the people not to worry since the temple was located in Jerusalem and they could not imagine that God would not be sentimental and destroy his own temple. Thus, when Jeremiah called for the nation to repent, his proclamation fell on deaf ears. When Jeremiah received word that destruction was coming, he felt that the Lord had deceived the people by initially telling them they would be forgiven. He was between the proverbial rock and the hard place; there was prosperity in the land and no imminent military threat from any nation around them.
God revealed to Jeremiah what happened on the earth before the creation of Adam and Eve. There was a catastrophic destruction (Genesis 1:2) but this was difficult to comprehend since knowledge of the war in heaven would not be revealed to mankind until Jesus told it to the Apostle John around 90 A.D. Nevertheless, God wanted the people of Judah to know the coming judgment would be catastrophic. There were gaps of time between the many judgments declared on Judah.
As we move into fifth chapter, God was asking if there was just one righteous man in Jerusalem. God told Jeremiah there was nothing but deception in the southern kingdom. How was it possible for the Lord to save the nation from destruction when they ignored God? The entire structure of Judah was corrupt from its political leaders to the prophets and priests. The businessmen were prospering through deception and exploiting the poor while they lived in luxury.
In examining our nation today, much of what God chided the people of Judah for exists today in the United States. The people connected to the Democratic Party lament over the fact that there are people opposed to the killing of babies through abortion. They dote on the LGBT community, support homosexual marriage, do not revere the Bible and have a distorted view of the Constitution of the United States. Just like in Judah, there are plenty of false prophets today and the majority of pastors have lost their faith in the Bible; instead, they have become social engineers, simply trying to make people in churches feel good.
America is prospering and times are good with a president that is working to steer the nation back to biblical values. But Donald's Trump's time in office is limited to four years, eight years if he is re-elected, and he has now used 1.5 years of the allotted time. In examining the time Jeremiah endured, we should begin declaring that judgment will come to the United States if we as a nation do not repent. We need to be vigilant and true to the calling we have of being salt and light.
Print out the sermon outline and let's examine the Scriptures together Sunday morning at 9:00 AM PST.

Yours in Christ,

Pastor John S. Torell
---