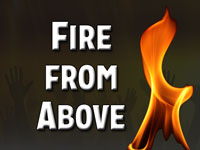 In the previous message, I discussed how devastated Jesus' followers were when He was taken and crucified. When reports started to come in that Jesus had been resurrected, it took some time before it sank in that Jesus was no longer dead and He was back in power. This week we will examine how a completely defeated group of 120 men and women were transformed by the power of the Holy Ghost.
Jesus spent the 40 days after his resurrection with the disciples and methodically taught them about the kingdom of God and how He wanted it developed. I personally believe that without these 40 days of teaching, Matthew, Mark, Luke and John would not have been able to write the Gospel accounts which have become the basis for the New Testament. None of the Gospel accounts were written before the crucifixion and Jesus never wrote anything on paper. If He had done so, the apostles would have kept His writings and passed them on to future generations.
On the day that Jesus ascended to heaven, He gave a final commandment for the disciples to go back to Jerusalem and wait for the Holy Ghost. The 120 congregated in the same upper room where almost a week earlier Jesus had observed the Passover meal with the 12 apostles. For the next seven days they prayed, fasted and discussed what the future would hold for them. It was here that the first church business meeting was held; Peter and the others decided to replace Judas Iscariot, who had hung himself after the betrayal. Instead of waiting for the Holy Ghost to make the decision, they took the matter into their own hands and elected Matthias, who is never heard of again according to the written records from that time.
The highlight of this message is what happened on the day of Pentecost. The disciples had previously moved with the help and power of the Holy Ghost during Jesus' ministry on earth, but they had never been filled with the Holy Ghost. The power surge that hit the 120 men and women transformed them into vibrant followers of Jesus that could not be stopped.
What the Holy Ghost did for the 120 in the upper room all those years ago is still available for us today. His power has not diminished; it's just that the church has gotten weaker over time, as it has gotten further separated from the Holy Ghost. Come and join me for this exciting message that I hope will create a hunger in you for more of the Holy Ghost.
Print out the sermon outline and let's examine the Scriptures this Sunday morning at 9:00 AM PST.
Yours in Christ,
Pastor John S. Torell
---