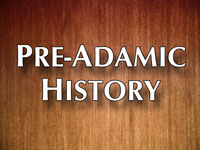 A few days ago I talked to a man who has been a Christian for at least 30 years. He and his wife attend church on a regular basis and he told me the earth was only some 7,000 years old and that it was foolish for people to think it is millions of years old. I asked what he knew about the time on earth before Adam and Eve and he had never heard any such teaching. He said that Satan was created after Adam and Eve in order to tempt them. We were standing in a parking lot, so I took a deep breath and began to recite various Scriptures from memory about the pre-Adamic time period. The man was almost breathless when he realized that Satan was created long before Adam and Eve and that there had been an angelic space war.
In this week's message, we will examine the basic tenets of the creation of the angels, the universe and mankind. Few Christians know that God created the angels long before He created the universe. I will show you specific verses from the Bible that prove the earth was populated prior to Adam and Eve by some type of people, and that there were nations, cities, commerce and war on this planet. Lucifer was the ruler of the earth at this time and at the same time he traveled to the third heaven and led the angels in worship of God.
I will briefly touch on the space war, the trial of Lucifer and his appeal to not be sent to the Lake of Fire. Lucifer put doubt in all the angels that God was not righteous and this is why mankind was created. This brings us to an important point; what is the purpose of humanity? Why did God create Adam and Eve? You are I exist on the earth to show the angels that a created being with a free will can reject God and choose to sin. It is not God's fault when that happens. That is the essence of free will. The blame lies with us when we reject God. Please join me for a message that will connect the dots as to what took place in the pre-Adamic world.
Print out the sermon outline and let's examine the Scriptures together Sunday morning at 9:00 AM PST.

Yours in Christ,

Pastor John S. Torell
---