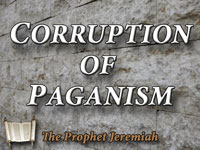 It must be frustrating for God to see people turning to sticks and stones and proclaiming these inanimate objects to be gods when He is the one who made the world and all that is in it. What makes men so stupid that they believe in fables and old wives tales instead of turning to the God of creation? Jesus made it clear to the prophet Jeremiah that He had seen the people of Judah going out into the forest, cutting down trees and taking them home to be set up and decorated so the people could bow down and worship these objects.
Where did this pagan ritual come from? Worshiping trees goes back to the old city of Babel, where King Nimrod ruled with his wicked queen Semiramis. After his death, Semiramis claimed he became the moon god and impregnated her. The miraculous offspring was a boy named Tammuz, and at his birth, an old piece of wood suddenly gave birth to a full grown pine tree. Every year since then the spirit of Nimrod would return and put gifts under the pine tree that Semiramis set up each year.
In time Semiramis would become known as the queen of heaven, she would have different names in different nations, but the worship of the queen of heaven and her son was perpetuated through the ages. By the time the Roman Catholic Church was founded in 325 A.D., the church leaders replaced her with Mary and Tammuz was replaced by baby Jesus. All the pagan rituals were kept with all the food treats.
Before Semiramis died, she further developed this new religion by adding that Tammuz was resurrected after his death. A forty day fast was instituted in order to celebrate this resurrection as an ongoing memorial which later coincided with the Passover week and the resurrection of Jesus. Since Roman Catholicism could not get rid of these pagan rituals, they simply replaced Tammuz with Jesus, changed the name of the forty day fast to Lent and then on resurrection Sunday kept all the pagan rituals with the bunny and the eggs.
Jesus was not pleased with the people of Judah nor is He pleased with the Christians of the 21st century. All the pagan customs adopted by the people of Judah are still with us today. It is with pride that pastors allow Christmas trees to be set up in their churches. Is it any wonder why there is no spiritual power in the Christian churches today? How can the Holy Spirit sanction pagan tradition and mix it with Jesus? Paganism is an abomination and totally rejected by God. Will you reject paganism and start fresh with Jesus?
Print out the sermon outline and let's examine the Scriptures together Sunday morning at 9:00 AM PST.

Yours in Christ,

Pastor John S. Torell
---