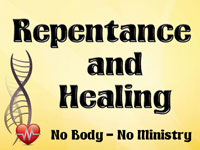 Jesus as the Son of God came to pay for our sins and give us eternal life, but there are also earthly benefits in form of healing for our soul and physical body. God did not say that "healing is possible," but that healing is a sure thing because Jesus took care of all illnesses and damage to our souls and bodies.
How do we cash in on these promises? Again, the roadmap is laid out for us in the Bible. It begins with fasting and repentance and that leads to rescue and recovery. God told King Solomon that if the people humbled themselves and repented, the Lord would respond in turn. In other words, God's response was predicated upon an opening action on our part.
When Ezra and the remnant left Babylon after 70 years of captivity, he realized that this was not a project that could be handled in the flesh. He needed divine guidance from the Lord and had everyone stop so they could fast and repent. Ezra provoked God in a good way and received the divine instructions he needed.
Repentance should bring a person to forgiveness. Jesus made it clear that without forgiveness, fasting and repentance will have absolutely no effect; it is an exercise in futility. There are no shortcuts in the Kingdom of God; the roadmap is clearly laid out and we need only follow the instructions from God. We are blessed when heed the Lord's spiritual laws. King David could not be forgiven and restored until he first asked for forgiveness and repented of his transgressions.
This is especially exciting because it is possible to prevent sickness from entering your life. God's spiritual laws are a double edged sword that can bring blessings or curses depending on the choice you make. There is a place of rest and comfort that God has prepared for all who are willing forgive and repent. It is a beautiful respite with rivers of refreshing water and unlimited peace that is available to all Christians regardless of where you are in life. Please join me this week as we travel on the road to peace, wellness and happiness.
Print out the sermon outline and let's examine the Scriptures together Sunday morning at 9:00 AM PST.

Yours in Christ,

Pastor John S. Torell
---