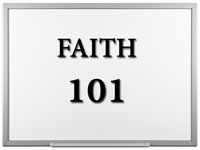 When I began developing a close relationship with my heavenly Father, I found that faith started growing as I drew closer to the Lord. I realized that faith is a gift of God. It's not something that can be pumped up, but faith begins from within through the power of the Holy Spirit. Faith is a trust issue. As in, do I really trust God to be there for me when I need Him?
The eleventh chapter of Hebrews is known as a faith chapter and I want to spend a significant amount of time in this chapter to examine what faith meant to the great people of the Bible. I am also going to talk about Mary, the mother of Jesus. Few people realize that she was just a teenager when Gabriel told her she would soon be pregnant with the Messiah. She was engaged to Joseph, but they did not live together and she was still a virgin. For a woman to be engaged to a man and become pregnant by someone else was a death sentence. Mary was around 16 years old and yet she had faith to believe Gabriel was telling the truth. The Jewish leadership refused to believe her story and she was maligned as a whore who had sexual relations with a Roman soldier. This is the version taught in Jewish history books today.
Since I surrendered to Christ in 1966, my life has been based upon faith in God and in this message I want to share personal experiences and what I have learned from the Bible. In order to move in faith, it is first necessary to live a life of truth and conduct all your actions with integrity. This has to be bathed with God's divine love on a daily basis. I would love to have you join me this coming Sunday and we examine one of my favorite topics together!
Print out the sermon outline and let's examine the Scriptures together Sunday morning at 9:00 AM PST.

Yours in Christ,

Pastor John S. Torell
---