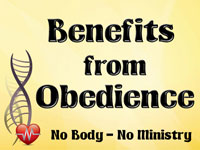 Most people view God as a Santa Claus who loves everyone and want Christians to have a good time. He is treated like someone who has dementia by those who have a care free attitude about sin. Then there is the other end of the spectrum where God is hard to please and is just waiting to bring the pain at the slightest infraction. For the record, neither of those characterizations is accurate.
God will forgive anyone who repents, but, and this is a big point, there will still be consequences for sin. The New Testament is replete with God's love for humanity, but there is also an abundance of scriptures that tell of His justice as well. The creation in which we live is based upon an elaborate system of laws that were codified before anything was made. This law system comes in two parts. First, there are laws overseeing the spirit realm, and secondly, there are laws governing the physical part of the creation. When a person runs afoul any of these laws, there are unavoidable consequences. God has a penal code that clarifies what kind of penalty will be meted out when an infraction occurs.
King David lusted after Bathsheba even though he knew that she was Uriah's wife. Nevertheless, David had her brought to the palace for sexual intercourse and sent her home. When he found out that she was pregnant, he had Uriah murdered and took Bathsheba as a wife. David obviously broke a number of laws, among them was coveting, adultery, lying and murder. God pronounced a death sentence upon the resulting child and long lasting curse that "the sword" would always be in David's bloodline. It is easy to see that strife and murder has continued from generation to generation.
The apostle Paul was capable of extreme anger even though he was saved and baptized in the Holy Spirit. He got into a verbal argument with Barnabas when he wanted to bring his nephew Mark on the next mission journey. Paul didn't want Mark with them because he had previously abandoned them. Paul and Barnabas both felt strongly about the matter and they got so emotional that split up and went separate ways. Never mind the fact that God had called them together to work as a team. We don't know what happened to Barnabas but Paul subsequently lost his protection from God and was arrested, whipped and jailed.
There is an important lesson to be learned with these two men. Just because you are saved and baptized in the Holy Spirit does not mean that you are immune to God's laws. I will share the importance of obedience in order to get the maximum benefits available for us here on earth. I look forward to being with you Sunday.
Print out the sermon outline and let's examine the Scriptures together Sunday morning at 9:00 AM PST.

Yours in Christ,

Pastor John S. Torell
---