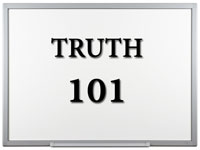 As we continue to prepare for eternity, we are going to examine the 9th commandment that admonishes us to tell the truth. This commandment can also be known as don't tell a lie. Bearing false witness against a neighbor is the same as lying and God made it clear that He does not accept lying in any way shape or form. Truth is the cornerstone in God's creation. Without truth there would be no spiritual laws or physical laws. If a person working on a mathematical problem began to enter false data, he could never accurately solve the problem and come up with the correct answer.
Jesus declared He was truth. (John 14:6) It is impossible to operate with integrity if truth does not exist. The apostle John told us that God is light and there is no darkness found in Him. (1 John 1:5) It is a proven fact that no relationship can exist on this earth unless it is built upon truth. A lie will destroy that relationship and it is difficult to repair a friendship that has been damaged by lying.
It is a well-known fact that the majority of politicians are liars. I've heard it said that you can tell a politician is lying when his lips are moving. This is especially true when they are running for re-election. These political whores will promise the voters many things but fail to deliver after the election.
There are a number of things that people unknowingly do on a daily basis which constitutes a lie. One of the most common is when someone asks, "Hey, how you are doing?" Many people automatically respond, "I'm fine" when the opposite is true. To make matters worse, the person doing the asking is not really interested in what is happening in your life. It is just a common question. Thus both parties are being dishonest with each other.
Most Christians try not to lie but lying often subconsciously takes place every day. Are you willing to turn the spotlight on your life and expose any hidden lies that exist in your life? Please join me this Sunday as we open the Bible and examine God's Word together.
Print out the sermon outline and let's examine the Scriptures together Sunday morning at 9:00 AM PST.

Yours in Christ,

Pastor John S. Torell
---