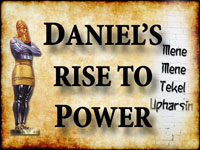 The power of God can manifest itself in various ways. This week we are going to examine how God uses supernatural knowledge as a tool to install His people into key political leadership positions of nations which do not worship the God of Abraham, Isaac and Jacob. God brought Daniel into a position of power under King Nebuchadnezzar in three stages:
Daniel and his three friends refused to eat the king's food and asked to be placed on a vegetarian diet. After three years of healthy nutrition and training, Nebuchadnezzar found them superior to the others.

When the king set up the golden statue and demanded worship, Shadrach, Meshach and Abednego refused to worship idol and were cast into the fiery furnace but were miraculously saved by Jesus! This created newfound respect in Nebuchadnezzar for God, but he still clung to the demon gods of Babylon.

Everything changed when God gave Nebuchadnezzar a dream that no one except Daniel could interpret.
Nebuchadnezzarís dream was a warning to repent, be humble, recognize the God of creation or lose his mind! Daniel warned the king but he did not heed Danielís counsel, and as a result, he lost his mental faculties for a season. Nebuchadnezzar lived like an animal until he repented and served the God of Abraham, Isaac and Jacob exclusively. This third event propelled Daniel to second in command of Babylon, and in reality, God ruled Babylon through Daniel until the death of Nebuchadnezzar.
After the death of Nebuchadnezzar, there was instability for the next 23 years as many men lusted after the throne of Babylon and attempted to capture it by murder and intrigue. Daniel does not mention anything during this time period, and it is only when he is around 83 years old that Daniel is once again called upon to interpret a message from the Lord. This time the message did not come in a dream as in the past but a mysterious hand wrote on the wall in front of King Belshazzar and thousands of others in the banquet hall of the palace. The kingís wise men are unable to interpret the writing on the wall and Daniel was called upon once again to give the meaning of the message. Daniel was not impressed with Belshazzar and boldly told him that God was finished with him and that his time on earth was almost over. The prophecy came to pass just a few hours later as Babylon was conquered by King Darius of the Persians and the Medes.
This message will highlight Danielís unlikely success story as God used him repeatedly to change the course of political events in the Babylonian empire under Nebuchadnezzar and later with the Persians and Medes under Darius. While God allowed the Israelites to be conquered, He didnít abandon them in a hostile land and Danielís life is evidence of Godís faithfulness in the midst of adversity. God used him supernaturally and the same can happen for you. God has not changed; He just needs someone that is willing to listen and obey.
Print out the sermon outline and let's examine the Scriptures this Sunday morning at 9:00 AM PST.

Yours in Christ,

Pastor John S. Torell
---