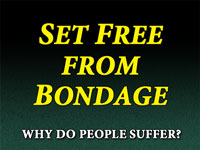 Jesus never taught that Christians should cast out evil spirits from unsaved people unless it was in conjunction in bringing them to salvation and the new birth. Deliverance was for people who had come to the saving knowledge of Christ. This is subject that few pastors believe and even dare to speak about. Churches today are full of born again people laden with demons and they donít even know it.
The baptism of the Holy Spirit is available to all Christians, but, and this is a big point, you must ask for it. Healing is also available to all believers in Christ, but just like with the baptism of the Holy Spirit, you must ask for it. People have the choice to be set free from evil spirits, but just like with the previous two points, you must ask for it.
In today's society it is challenging to differentiate between unbelievers and people who are born again. Christians are often just as depressed as unbelievers, sickness is rampant in the churches, and Christians have the same divorce rate as unbelievers. Christians engage in pornography, adultery, fornication just like the world. Many believers in Christ are bound by alcohol and other drugs. How can we be salt and light if we are not different than the world? It is obvious that something is very wrong with the Church of Jesus Christ.
There is nothing new under the sun and God has a solution to reverse the terrible condition of His people. It involves repentance, breaking of curses and casting out demons. This is a message that every believer in Christ should prayerfully hear. Jesus came to set the captives free and provide an abundant life to those who make Him their Lord and Savior. Be diligent and search the Scriptures like the Bereans did and I promise that God will respond to your heartís desire.
Print out the sermon outline and let's examine the Scriptures together Sunday morning at 9:00 AM PST.

Yours in Christ,

Pastor John S. Torell
---