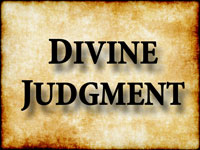 There is nothing as lethal to a nation, church or an individual as rebellion because it grows in the soil of discontent. It was not pride that was the original sin, but an attitude of discontent that brought Lucifer down and since that time he has spread rebellion to as many people who willingly receive it. The Devil fought God to prevent the children of Israel from leaving Egypt. Once the people had finally been freed, Satan riled them up about the lack of water, food shortages and being discontent with their situation in the desert. Although Satan saw initial success, every attempt was destroyed by the supernatural power of God.
The Devil is not one to bang his head into a wall and will quickly change tactics when he cannot achieve a breakthrough. As he surveyed the leadership among the Israelites, he found a man that was not content. Korah was a Levite and cousin to Moses and Aaron. He was a priest in charge of services in the tabernacle, but he was not happy with the situation and began to envy his cousin and plotted a coup that would overthrow Moses because he wanted to assume Moses' position. Korah was able to convince two other leaders to join him in the revolt, and together they persuaded 250 princes to join them. When the confrontation finally happened, Moses knew that he could not singlehandedly oppose an insurrection from a blood relative in the flesh and win, only God could resolve the issue.
In this message, I will detail the development of this rebellion and how Moses completely leaned on the Lord to quell the mutiny and how the children of Israel responded. Christians face rebellion all the time in family affairs, in churches and in our nation. It just remains to be seen how you will handle rebellion when you encounter it. How can you protect yourself from becoming a rebel against God? Nobody plans to be rebellious; it's just a natural development of being discontent. It turned into a life or death situation for the Israelites of old and it is my desire that you will not repeat the mistakes of the past and encounter divine judgment as a result.
Print out the sermon outline and let's examine the Scriptures this Sunday morning at 9:00 AM PST.

Yours in Christ,

Pastor John S. Torell

---