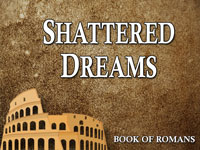 The 15th chapter of Romans deals with several issues that are not related to each other.
When Jesus came to redeem mankind, he came to a synagogue system spread throughout the Roman and Persian empires. The central worship took place in the temple at Jerusalem, where Jews from the different nations would come on the different holy days like Passover, Pentecost and Yom Kippur. It was a homogeneous system consisting only of Jewish people.
Jesus did not retain the synagogue system and instituted the church system with a different style of leadership and no central place of worship. The Jewish Christian leaders had difficulty integrating people of different nationalities and Paul addressed this issue when he admonished Christians not to build cliques in the local churches, but treat one another the same way Christ was treating them. Most of the people came from low income families, but there were also people that had wealth and political influence. Paul wanted the people who had more of this world's goods to share with their poorer brothers and sisters in Christ.
Paul also wanted to remind the Gentile Christians that Jesus had been born as an Israelite and they should remember that the Gospel had been given to them by the Jews. They were to praise the Lord for His mercy and deal with Jews in love. Paul told the Romans that he had been specifically appointed by the church in Jerusalem and Antioch to be an apostle to the Gentiles and this was the reason he traveled to different parts of the Roman Empire to preach the Gospel to the Gentiles.
In the last part of this chapter, Paul spoke about future travel plans. He wanted to travel to Rome on his way to Spain, but before he could embark on this long missionary trip, he wanted to deliver the money collected for the poor in Jerusalem. This dream was shattered when he came to Jerusalem and was almost killed by the Jews. Although Roman soldiers saved him, Paul was involved in a legal process that would take two years before he was finally sent to Rome as a prisoner to be tried before the emperor.
This message reveals how Paul thought, what his everyday life was like, and his compassion for the people in the churches. I hope that you will join me for this coming Sunday.
Print out the sermon outline and let's examine the Scriptures together Sunday morning at 9:00 AM PST.

Yours in Christ,

Pastor John S. Torell
---