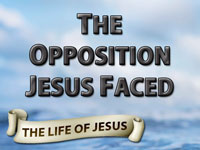 God selected Abraham to become the father of a nation through which the Lord would use to bring the Messiah to the earth and save the human race. This event would take place in the Promised Land that by the time of Jesus had shrunk to just the land of Judah and its capital of Jerusalem.
By the time Jesus was incarnated, Satan had greatly influenced the descendants of Abraham and diminished their reverence for the Old Testament, replacing it with the Talmudic commentary and the mystical Kabbalah. The Devil was running the people of Judah by proxy through the Roman occupational government, a corrupt Jewish vassal king, the high priest, and the three religious/political parties.
The political and religious leaders were sly and cunning because they had the power of Satan fueling them. They were ruthless and did not hesitate to kill their adversaries. It was into this demon infested arena that Jesus set about building His church for 3.5 years before he was to be sacrificed and pay for the sins of the human race.
Jesus should have recruited the most intelligent, educated and connected men who had not been corrupted by Satan but we find the opposite as He enlisted help from the province of Galilee, an agricultural area and void of higher educational institutions. God had spoken to the prophet Zechariah some 500 years earlier and stated the work of God would not be done through power or might, but by the Holy Spirit. (Zechariah 4:6)
As we examine the selection of the Apostles, Jesus picked eleven young men that were fishermen and/or laborers, only Matthew was a tax collector belonging to the Sadducees. This motley crew would have been considered losers by the world, but over time, the satanic players in Judah faded into the dust bin of history, while the church of Jesus Christ has flourished and spread worldwide. The might of the Devil was thrown at Jesus and everyone that clashed with Jesus is no longer relevant.
Print out the sermon outline and let's examine the Scriptures together Sunday morning at 9:00 AM PST.

Yours in Christ,

Pastor John S. Torell
---