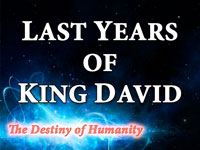 King David was a key player in the preparation for Jesus to come and redeem the human race. Despite all his shortcomings and mistakes, David never got involved in idolatry. This was his strongpoint in life; he was faithful in this manner until his death and this distinguished him from other the kings of Israel.
Israel suffered under a famine for three years, and when David asked the Lord what the problem was, he was told that it was a judgment because of King Saul had murdered certain Gibeonites, who had a covenant with Israel established under Joshua. Instead of seeking the Lord, David went to the leadership of the Gibeonites and they tricked him into promising whatsoever they wanted. They wanted revenge and for seven men from Saulís bloodline to be hung. Because of Davidís blind commitment, seven men had to die for something they had nothing to do with.
David was no longer a young man and he almost was killed in a battle. His soldiers told him in no uncertain terms that his days of leading the army were over. Satan had tried to destroy David many times, but the people sent to do the job always failed. As David returned home, the Devil influenced him to provoke God by numbering the people. Satan hoped to make the Lord so angry that He would turn on David because it was never about the numbers, but whether God was on your side. The scheme failed and the Lord sent judgment on Israel and 70,000 men died because of Davidís sin. This event greatly disturbed King David.
Toward the end of his life David began preparing for building the temple. He knew that God would not allow him to build it, but he could contribute to the effort by gathering materials and finances.
Adonijah was the oldest surviving son of David and legally the heir to the throne, but David had promised Bathsheba that Solomon would be the next king of Israel. This was known around Jerusalem and Adonijah tried to take the throne by deception just like his brother, Absalom, had attempted to do so.
When Nathan the prophet learned Adonijah was having an inaugural banquet, he asked Bathsheba to speak with the king and do something quickly. David ordered Zadok the priest and his military leadership to coronate Solomon as the next king. Everyone who supported Adonijah abandoned him when they found out that Solomon had just been crowned.
King Davidís last action on earth was to speak to Solomon about taking vengeance on those with whom he had grievances. Joab was to be killed even though he had protected David for more than 40 years. The uncle was not pleased with his nephew and wanted to make sure died a violent death and not from old age. David had publicly forgiven Shimei for cursing him when he fled from Absalom but the reality was that David still held a grudge and ordered his murder as well.
Print out the sermon outline and let's examine the Scriptures together Sunday morning at 9:00 AM PST.

Yours in Christ,

Pastor John S. Torell
---