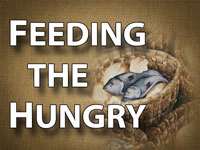 In the previous message we established that Jesus knew He was God in the flesh from the age of 12. He had full knowledge of His life in eternity before He came to the earth to reside in human form, that He was in control of His life and that no man could take it from Him. It is important to know that in order to understand the mindset of Jesus and the many actions He took while living on the earth as a man. This week we will examine a few situations where Jesus confronted a seemingly impossible circumstance and came through it because He was God and man at the same time.
Jesus is the Creator, and when He was with His disciples, He recalled how He had created the universe out of nothing that can be seen with the naked eye. Today we know that energy is indestructible and it transfers from one form to another. The lowest form of energy is heat. Energy cannot be seen, and in Hebrews chapter one, we are told that Jesus upholds the entire creation by the power of His spoken word.
The most basic element in the universe is an atom. It is energy that has been frozen into a tangible substance which can be touched by the human hand. It is impossible to touch just one atom. Most people aren't aware that they touch billions of atoms every day. The plastic keys I am touching as I type this description consist of atoms and each key is wired in such a way that the electrical impulse creates the letters you are reading now.
We will study three different events. First, we will examine the supernatural way Jesus was able to speak to thousands of people without any kind of amplification system. Secondly, we will look at two separate events where Jesus multiplied enough bread and fish to feed thousands of people from just a few loaves of bread and fishes. How did He do it? The answer lies in the way He created Adam from the dust of the earth. Both of these events were supernatural acts that cannot be duplicated in the physical world; it has to be accomplished in the spiritual realm where it becomes tangible food that fills the hungry stomach and nourishes the body.
What is the ramification of these miracles? Can they be repeated by modern day believers in Christ? Absolutely! Tune in to the webcast this Sunday and I will share how we can duplicate the creation of food, when we encounter a pressing need that cannot be met through physical means. The book of Hebrews tells us that Jesus Christ is the same yesterday, today and forever. The miracles He performed and the promises He made are still applicable today. The world and circumstances may change but God never changes. That is a comforting thought in today's unstable world.
Print out the sermon outline and let's examine the Scriptures this Sunday morning at 9:00 AM PST.

Yours in Christ,

Pastor John S. Torell
---