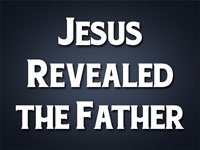 I have been involved in deliverance ministry for many years, and before demons can be cast out, all their legal strongholds in a person must be destroyed. One demonic stronghold is when a person has a bad relationship with their earthly father. This creates soul damage and the person is consequently unable to love their Heavenly Father. Not only does it provide an opening for demons to come and in and oppress the person, it can also cause sickness to develop in the person as well. This then leads us to the all-important question of this new series: who is God the Father?
I have never focused on this subject in all my years of ministry and it has taken time and prayer to understand what the Holy Spirit has been speaking to me. In this week's message, I want to establish a foundation that will be expounded upon in future sermons. Jesus stated that no one can come to God the Father except through Him and I want to examine what Jesus told us about the Father.
Jesus said that God the Father will draw men unto Him in order for them to be saved. This work is carried out by the Holy Spirit. Thus we have God the Father, God the Son and God the Holy Spirit as the Godhead. God is one and yet He has the capacity to divide Himself into three separate parts that operate in different places at the same time. The best illustration can be found when Jesus walked on the earth some 1,900 years ago, He communicated with the Father in heaven through the power of the Holy Spirit.
Jesus told the disciples that they had seen the Father since they had also seen Him but they did not understand what He was telling them at the time. The Bible tells us that God the Father sent Himself in the form of His Son to create the universe and later to redeem mankind on the cross. The Judge at the Great White Throne Judgment will be Jesus, but when the creation in which live is dissolved, we will move into a new creation and for the first time we will see God in His full glory as the Son and the Holy Spirit merge themselves back into the Father.
I believe this is a key message that will help Christians grasp who God the Father is and how we can develop a close relationship with Him on earth. After all, Jesus told the disciples to pray to the Father in His name (Matt. 6:9). Jesus never told them to pray in His name to the Father. That means if you want to develop a deep relationship with God, it is important to remember that "He is a rewarder of them that diligently seek Him." (Heb. 11:6)
Print out the sermon outline and let's examine the Scriptures this Sunday morning at 9:00 AM PST.

Yours in Christ,

Pastor John S. Torell

---