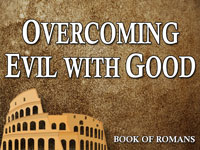 Preaching through a book of the Bible can be difficult because there were no chapters and verses when it was written. As we continue to work through the 12th chapter of Romans, Paul changes his style of writing and begins with what is today called "one-liners." In this message we are going to examine four of these one-liners.
As human beings we normally spend about 8 hours working, 8 hours sleeping and 8 hours doing something with our free time. That means that one third of our life is spent in some type of business or work capacity. Paul wanted the Romans to know that work was to be done in such a way that it would bring glory to God.

No parent ever has to teach their children how to worry and be anxious. This portion of our sin nature is rooted in lack of faith in God. Paul exhorted the Christians in Rome to be overcomers, and not to live in fear and anxiety. Jesus said that we were to seek the kingdom of God first, and that all subsequent things needed would be provided. Stress will damage the body and many people are sick because they cannot trust that God will be with them in all situations.

Paul wanted the church in Rome to be giving take care of the people in their fellowship and also minister to people outside the church. Jesus expects us to be caring and loving to those around us.

Kindness is not inherently part of the sinful nature of man. Revenge and retribution begin manifesting early in life and Jesus does not want His followers to be like this. A Christian should never curse another human being; instead, we are to bless the people hurting us and do good unto them. Paul told the church in Rome that he expected them to be Christ like in their daily lives, not sounding and living like the Devil.
I am looking forward to having you and spend Sunday morning with me. I promise this message is just as fresh as when it was written 1,900 years ago.
Print out the sermon outline and let's examine the Scriptures together Sunday morning at 9:00 AM PST.

Yours in Christ,

Pastor John S. Torell
---