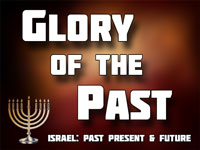 There are many questions as the time of the Antichrist comes closer. Was the formation of the state of Israel in 1948 a fulfillment of the Old Testament prophecies? What is the difference, if any, between the modern state of Israel and the kingdom of Israel? There were two major questions that the apostles asked Jesus. When will the Kingdom of Israel be restored and when would Jesus come back?
In this week's message we are also going to establish how the Kingdom of Heaven (KOH), which is also synonymous with the Kingdom of God (KOG), is not the same as the Kingdom of Israel (KOI). The KOH is a spiritual kingdom that will last through eternity and KOI is an earthly kingdom that is temporary, and will end when Christians have moved into the new creation and the current universe is dissolved.
The Kingdom of Israel (KOI) began under King Saul, continued with King David and fell apart after King Solomon's death. It was like a fire that burned bright but did not have any longevity because it only lasted 122 years. There are prophecies about KOI found in the Old Testament and we will examine some of them and the time period to which they belong.
This will be a great historical study that will lay a foundation of what humanity can expect in the future. Failure to discern biblical truth and correctly place it on a timeline will only bring about confusion. God certainly does not want His people to be confused and I look forward to having you join me for this week's sermon.
Print out the sermon outline and let's examine the Scriptures together Sunday morning at 9:00 AM PST.

Yours in Christ,

Pastor John S. Torell
---