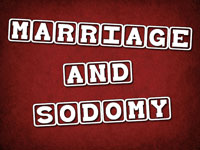 Man's sinful nature is a stumbling block that shows up in each generation. The rebellious nature of the human soul questions every moral command given by God. Conversely, mankind has learned to follow the laws of God when it comes to mathematics, physics, chemistry, etc. if he wants to be successful when it comes to business and manufacturing. However, when it comes to the spiritual laws of God, humanity wants to ignore, change or outright break them because they are irrelevant. In this series of messages, I want to establish certain non-negotiable absolutes found throughout the Bible.
In the western part of the world, marriage no longer has the biblical definition of one man and one woman. The politicians and courts have redefined marriage to include same sex partnerships of two males and two females in addition to the traditional count of one male and one female. The majority of the people living in the United States still have not embraced the idea that marriage can include more than two persons. There are powerful forces behind polygamy and want to have this legalized. Some people are into bestiality and dream of the day when a human being can legally be joined to an animal.
In this week's message I will build a solid foundation upon the Word of God that the institution of marriage was created by God and man has perverted the definition over the years. If in fact God is the creator of mankind and the author of marriage, what gives humanity the legal right to change God's laws?
When it comes to homosexuality, most pastors want to be politically correct and avoid the subject altogether. Nevertheless, the real question is whether God's views are negotiable? When God states His views on a particular subject, does mankind have the right to ignore, change or break those laws? Everyone has an opinion but the final authority must be the Word of God. If Christians lose their foundation, what is left to stand upon? This message won't tickle your ears but it will provide you with a dose of truth in a time when much information abounds but there is a scarcity for impartial truth.
Print out the sermon outline and let's examine the Scriptures together Sunday morning at 9:00 AM PST.

Yours in Christ,

Pastor John S. Torell
---