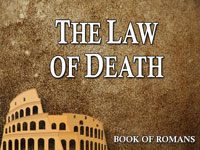 Have you heard about the Law of Death? Most people have not because it is not found among the laws given to Moses, nor will you find it among the laws given to Noah. This law dates back to beginning when God created Adam and Eve. They were not subject to the Law of Death as long as they did not eat from the Tree of Knowledge of Good and Evil. The Bible records that they ate the fruit and instantly died spiritually, and eventually their physical bodies also passed away.
Ever since then the Law of Death has been applied to their descendants and you and I were automatically under it from the moment of conception. This law refers to the physical death we will all experience and the second death that comes upon an unsaved person when they are thrown into the Lake of Fire. No one can escape this law by themselves. Meaning, even if you are a good and generous person, you are still under this law.
The good news is that Jesus Christ defeated the Law of Death when He came to the earth. He became subject to this law in the form of a man, but because He had sinless blood and lived a perfect life, He was able to purchase redemption for humanity when He died on the cross. The Law of Death is removed from every person that receives Christ as Savior. There is still physical death unless you are alive at the second return of Jesus, but the good news is that we are saved from the Lake of Fire. Our destiny has changed from torment to eternal life in heaven.
I'm sure at some point you've heard people quoting the apostle Paul, stating we are no longer under the law because we are saved by grace. However, Paul is not speaking about the laws given to Moses. Yes, it's true we are no longer under the sacrificial law, but that isn't what Paul is referring to. He was speaking about the Law of Death and how Christians are no longer subject to it.
All the laws in the Bible with the exception of the sacrificial laws are still valid today. You and I are not saved by keeping the laws of God; we keep the laws because we are saved and love the one who has saved us. This is why Jesus said, "If you love me, keep my commandments." I hope you will join me tomorrow as we examine the Bible together.
Print out the sermon outline and let's examine the Scriptures together Sunday morning at 9:00 AM PST.

Yours in Christ,

Pastor John S. Torell
---